Blog
11 Feb 2013

My Time with Big Pit - Alex Rees

It was still cold and icy up in Blaenavon when I arrived to start my Knowledge Exchange Placement with Big Pit. However, I was no less enthusiastic for this chance to go 'behind the scenes' of museum work, meeting staff involved in a wide variety of skilled positions from engineers to curators. The underground tour was not available that week because of maintenance work, but I met and talked to ex-miners who usually run the tours and an ex-blacksmith, who demonstrated sharpening a pick. I also got to see the false coal-face panels that are being made for an expansion to the underground tour, which will be used to protect visitors without putting plain unsightly boards up.

In addition to spending time with Big Pit, I took the opportunity to meet staff at the South Wales Miners' Museum in the Upper Afan Valley. This is the oldest mining museum in Wales, opened in 1976, but until last year, was staffed entirely by volunteers. I sat in on their monthly meeting of the Board of Trustees and Volunteers and was impressed by their commitment to the museum, and especially to its role and regenerative influence in the local community. They are planning to run monthly talks on subjects of mining interest, for which I volunteered myself, details to follow later in the year!

Having spent time with these two public-facing museums, it was an interesting comparison to then spend the day at The Collections Centre in Nantgarw. It is a strange experience to walk around the large objects store, seeing a huge wheel from a pit head gear next to a row of train wagons, or a helicopter parked by a reconstruction of the medieval Magor Pill boat. It also gave me an insight into the changing role of museums, as this site stores contemporary artefacts that are assumed to have future interest, e.g. an electronic dance-mat manufactured in Wales. This is a big step for museums and a change to the way history is being thought about and preserved.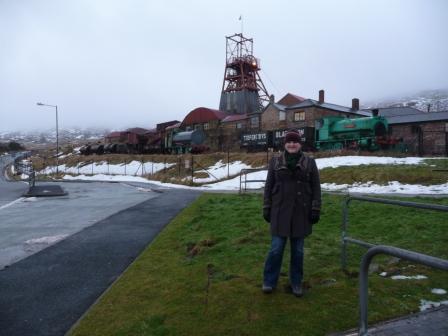 [Alex braving the cold and snow during her placement at Big Pit in January]
On my final day with Big Pit, I spent a lot of time at the pit head baths building. It is being preserved so that you can still see the entrance, wash-rooms and lockers as they would have been. There is also a gallery dedicated to the home life of the miners that includes a moving section depicting the effects of dust and gases. It shows a loop of video footage of an ex-miner suffering the effects of chronic lung disease, with his permission of course. This got me thinking about how the research being undertaken by the project could interact with a museum such as this. There is currently this section on health, but it could be expanded to give a broader historical picture of the experience of chronically sick and disabled miners.
Back