Blog
09 Aug 2013

'Never give way to despondency': The sufferings of George Spearing in a Coal Pit, 1769 - David Turner

The dangers of coal mines were all too apparent for the men, women and children who have worked in them over the centuries. But abandoned mines present their own dangers to the unwary. Stories of people falling down disused mineshafts to their deaths, or surviving in the gloom until their eventual rescue, have long exercised a powerful hold over the public imagination - perhaps because the lonely, fetid darkness of the pit anticipates the grave that in time awaits us all.

One of the earliest examples of these narratives of being trapped underground was produced in August 1793 by a pensioner of the Greenwich Naval Hospital, Lieutenant George Spearing. Published in the Gentleman's Magazine, and reprinted in other periodicals, Spearing's account related the story of how on 13th September 1769, then aged 40, he had fallen into an old coal pit at North Woodside near Glasgow. The mineshaft had been hidden beneath the undergrowth in a wood where he had been picking hazel nuts.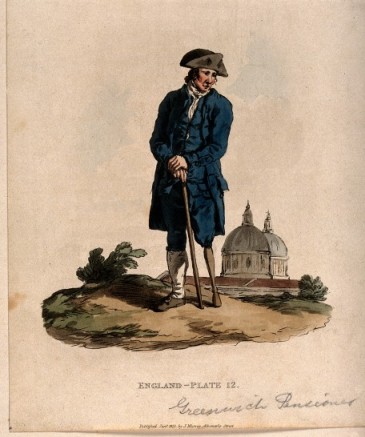 [A portrait of a Greenwich pensioner with a wooden leg. John Murray, London, 1813. Image source: Wellcome Library, London. Used under Creative Commons Attribution-Non-Commercial version 2.0 licence]
Despite falling some 17 yards (15.54 metres), Spearing survived with apparently only a few bruises and a cut to his tongue which he had bitten when he landed. However, with the tunnels of the old mine blocked up he was exposed to the elements and was soaked to the skin by heavy rain as night fell. This cramped hole would be Spearing's home for the next seven days, where he endured sleeplessness, cold, discomfort from his wet clothes and bruises, hunger and thirst. It was the latter that proved most difficult to bear. Spearing first tried to suck water from his clothes, before discovering the thigh bone of a bull which 'had fallen into the pit about eighteen years before', which he used to gouge out a cavity to collect rainwater which gave him some relief. In spite of there being a mill nearby, Spearing's cries for help went unheard, except by some boys who 'being prepossessed with an idle story of a wild man being in the wood … ran away affrighted'. Although many might have succumbed to despair in this situation, Spearing recalled that he had 'enjoyed a perfect serenity of mind', and had been able to reconcile himself to his predicament since he had believed since childhood that 'something very extraordinary was to happen to me in the course of my life'. On the seventh day rescue eventually came in the form of a group of Spearing's friends who, having given up hopes of finding him alive had gone to search for his body in order to give it a decent burial. With the help of a passing collier, they lowered down a rope and hoisted him to the surface.
Spearing's ordeal was not to end there, however. Due to the damp and poor circulation his legs swelled and became 'benumbed' and over the following months a 'mortification' developed in the heel of his left foot. Knowing that he 'must be a very great cripple' with the loss of his heel-bone, Spearing 'came to a determined resolution to have my leg taken off, and appointed the very next day for the operation'. Accordingly, on 2nd May 1770, nearly 8 months after his rescue, surgeons amputated Spearing's left leg 'a little below the knee'.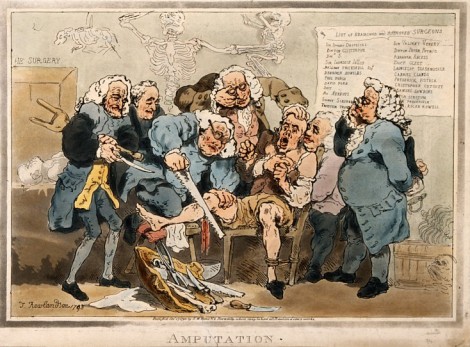 [An illustration of an amputation. By Thomas Rowlandson, S.W. Fores, London, 1793. Image source: Wellcome Library, London. Used under Creative Commons Attribution-Non-Commercial version 2.0 licence]
What follows next in Spearing's narrative – and what makes it so interesting to historians of disability – is one of the most vivid first-hand accounts we have on the after-effects of eighteenth-century amputation. He described constant bleeding in the days following his operation with his principal artery having to be 'sewn up four different times before the blood was stopped'. After that:
I suffered much for two or three days, not daring to take a wink of sleep; for the moment I shut my eyes, my stump (though constantly held by the nerve) would take such convulsive motions, that I really think a stab to the heart could not be attended with greater pain. My blood too was become so very poor and thin, that it absolutely drained through the wound near a fortnight after my leg was cut off. I lay for 18 days and nights in one position, not daring to move, lest the ligature should again give way; but I could endure it no longer, and ventured to turn myself in bed contrary to the advice of my surgeon, which I happily effected, and never felt greater pleasure in my life.
Spearing's recovery from the operation took over nine months.
We don't know exactly what motivated Spearing to publish his account of the accident twenty-four years later. But he was clear that his tale offered a 'very useful lesson to mankind, viz. never to give way to despondency be their situation ever so deplorable'. Spearing stressed that although the accident had left him impaired, he did not necessarily consider himself disabled, assuring readers that once recovered he had enjoyed 'perfect health' and had 'since been the happy father of nine children'. In a theme familiar to many eighteenth-century accounts of disability, Spearing maintained that his experience of impairment had strengthened his religious faith, believing that his preservation was a sign of divine providence. In August 1793, with Britain in the early stages of a war with France that would produce thousands of casualties, Lieutenant Spearing's tale of how he had survived the grave-like conditions of the disused coal pit and had been restored to health after dismemberment was a story that might prove poignant and edifying to his naval and military colleagues.
Further Reading:
'A Narrative of the Sufferings of Lieutenant George Spearing, who lived Seven Nights in a Coal Pit without any Sustenance except Rain-water', Gentleman's Magazine 63:2 (August 1793), pp. 697-700 (available on Google Books)
David M. Turner, Disability in Eighteenth-Century England: Imagining Physical Impairment (New York andLondon: Routledge, 2012).
Back