Blog
10 Sep 2013

Disability in Time and Place - Kara Brown

I am a BA History and International Relations graduate from Swansea University. I have a real passion for the needs of children and adults with various disabilities and am keen to pursue a career in teaching. Through my work volunteering at a government run orphanage in Thailand for children with disabilities, I have seen an institutional approach which has increased my compassion for the cause to make a difference and to break down attitudes and barriers that surround disability. My dissertation research was dedicated to uncovering the development of disability rights and in practice I work for a charity in Birmingham that works to enable a full and exciting life for individuals in the community who have a disability. As someone passionate about both disability and education, I was eager to explore English Heritage's new Disability in Time and Place educational resource.

The teaching resource is informative and makes for a very interesting read. English Heritage have provided this resource to enable children today to understand disability in history and to allow disabled people to recover their past. The resource primarily displays social attitudes towards disability throughout history and what interventions were made to help or hinder those who were disabled. The resource also discusses places that people with disabilities were 'kept' whilst continuing to explain the varying views of British society on disability.

From a teacher's perspective, the resource facilitates the teaching of disability history because English Heritage have made it simple in its format yet full of facts and information that can be adapted dependant on the classroom environment. Tara Flood's quote at the start of the resource gives a great example to teachers as to why children should be learning about disability history: 'it is crucial that children and young people know about disability history and culture, for disabled young people it gives them a sense of a positive identity and an understanding about the leadership of disabled people in the struggle for equality and rights, for non-disabled young people it develops a greater understanding about the value of difference and diversity and an appreciation of what brings different people together'.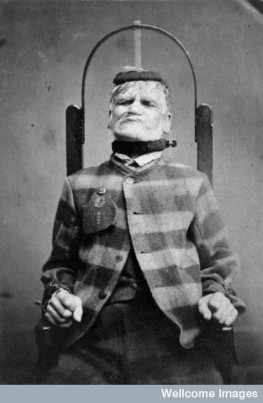 [Patients at the West Riding Lunatic Asylum, Wakefield, Yorkshire; attributed to Henry Clarke; number 14, elderly man wearing checkered uniform, in restraint chair, c. 1869. Wellcome Library, London. Used under Creative Commons Attribution-Non-Commercial version 2.0 licence]
The resource examines disability history chronologically, with use of key facts, and follows with constructive classroom activities in relation to the information provided. For example, the resource looks at particular periods, such as the Edwardian and Victorian eras, explaining about the use of asylums for individuals with a disability and then follows in the activities suggested to consider the case study of daily life in a Victorian asylum and encouraging the students/pupils to think about and discuss what it was like to be a patient at one of these asylums, considering treatment, quality of life etc. As a classroom resource in a mainstream school, it would have to focus predominantly on group work, allowing children to discuss their ideas whilst also being open to new terms and views - this can promote inclusion and diversity and a development of new skills. The activities suggested follow the historical aspect so that children can engage with the subject and take ownership of it. For example, among the activities advised is the production of a performance piece using the case studies provided in the teaching resource. This type of work enables children to work as a team using their own ideas as well as the historical background to produce a creative and poignant view of disability in history using their individual approaches to this topic. There would need to be careful consideration of the age group and ability of the pupils using this resource. On reflection the resource meets the needs of upper primary and secondary pupils, though some of the activities may be adapted to suit younger children.
The 2012 Paralympics provides a useful reference point to which children will be able to relate in order to give an introduction to learning about the history of disability. The resource also teaches children the correct terminology to use with regard to disability, something which is integral to the learning of young people, so that they are aware of the terms used previously but to also discuss their views using the correct and current terminology. This in itself creates an understanding of the relationship between society and disability within history, showing how social attitudes towards disability are deeply ingrained in language.
However this resource is not without limitations. While it is good on social attitudes towards disability, more could have been said about individual experiences which would offer a greater understanding. However, this is something that could be incorporated with further research.
Additionally, it is a resource best suited to a mainstream teaching environment and considerable adjustments would need to be made to utilise it as a topic in a Special Educational Needs school. Disability history should be on the curriculum in schools; its history should not be hidden but instead examined, analysed and learnt from.
Overall the English Heritage teaching resource is extensive in its information and it is a positive and practical way of introducing the history of disability.
Back