Blog
11 Oct 2013

Conference Report: The European Association for the History of Medicine and Health, Lisbon, 4-7 September 2013 - Angela Turner

Five members of the project team recently attended the EAHMH conference in Lisbon which was concerned with the ways in which disasters and risks have played a key role in developments in health and medicine. Papers at the conference focussed on a number of important themes such as the role of local, national and international agencies in mitigating risk, responses to preventive measures and the significance of economic concerns.

The opening plenary lecture of the conference was given by Javier Moscoso who highlighted the importance of public engagement in medical history and pointed to the ways in which historians can contribute and inform exhibitions. He also pointed to the implications these exhibitions and displays can have on interpretations of the body.

An excellent panel on 'Occupational Health Risk and Management' included a wide variety of papers ranging from Ido Israelowich's study of Roman Imperial Medical Corps to Alfredo Menendez-Navarro's work on asbestos hazards in late 20th century Spain. Other papers in this session included Janet Greenlees' work on Lanarkshire textile workers and Christopher Sirrs' interpretation of health and safety legislation in the UK in the 1960s and 70s. Many of these papers were concerned with ideas of risk taking behaviour in industry and the ways in which workers themselves attempted to minimise their exposure to ill-health and disease.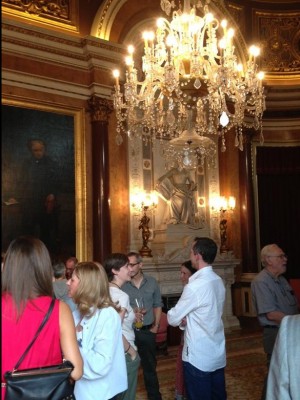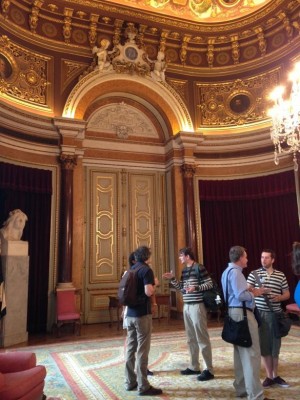 [The Conference Reception at Lisbon City Hall]
Anne Borsay chaired the session entitled 'Disability and risk in the British coal mining industry c.1800 – 1947' which included a number of papers emerging from the work of the Disability and Industrial Society project team. This first paper was given by Vicky Long and Victoria Brown on the role of the Permanent Relief Fund in welfare for disabled miners in the north east in the nineteenth century. Angela Turner and Arthur McIvor then presented their work on compensation and disability in the Scottish coalfields in the early twentieth century. The session ended with Ben Curtis discussing his work on perceptions and representations of risk in the records of the South Wales Miners' Federation in the period leading up to the Second World War. All three papers were concerned with the notion of risk and the ways in which miners and others working in the coalfields negotiated the risky environment and sought to develop strategies to cope with disaster, disability and disease in the course of their working lives. Parallels were able to be drawn between the three coalfields but significant differences in local responses to risk and disaster were also identified and discussed.
Back