Blog
14 Oct 2013

Remembering Senghenydd - one hundred years on - Ben Curtis

At 8.10am on 14 October 1913, an underground explosion ripped through the Universal Colliery in Senghenydd, killing 439 men and boys who were working there. A further man subsequently died during rescue operations at the colliery. It was the worst mining disaster in British history and also the third-worst in world history. One hundred years on, the Welsh National Mining Memorial has been unveiled on the old colliery site, to commemorate miners killed in the Senghenydd disasters (there had also been an explosion there in 1901, in which 81 people had died) and also to remember the victims of the other 150 mining disasters in Wales.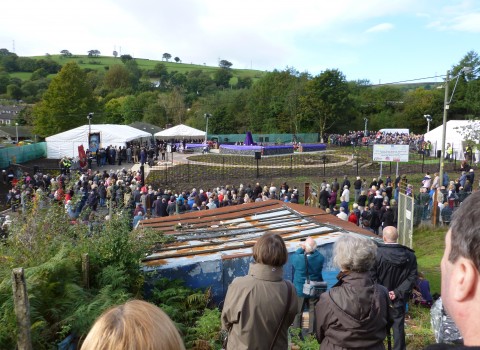 [The crowds gather at the memorial garden]
Hundreds of people, possibly as many as a thousand, gathered to pay their respects and to view the unveiling of the memorial. In addition to them, many local residents lined the streets up on the steep hillside overlooking the site. The scale of the public turnout to the commemoration shows the extent to which the people of the Valleys are aware of the importance of coal in the history of south Wales and also of the terrible toll of death and injury that the industry inflicted upon its workforce.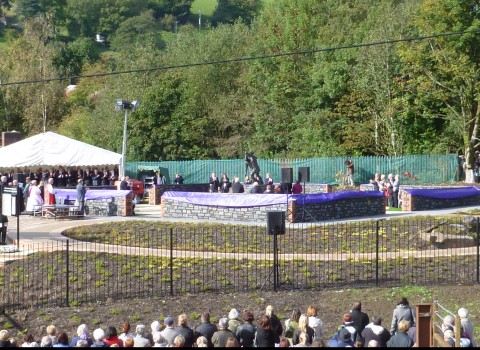 [The unveiling of the memorial]
The memorial statue itself depicts a rescue worker helping an injured miner. Surrounding the statute is a walled garden, with tiles inscribed with the details of those killed in the two Senghenydd disasters as well as a 'path of memory', which marks the other colliery tragedies in Wales.
The events to commemorate the centenary of the tragedy began at 8.10am on 14 October 2013, with the sounding of the original Universal Colliery pit hooter six times – exactly as it had done a century earlier, to alert villagers to the disaster at the colliery. It was haunting, poignant and entirely appropriate.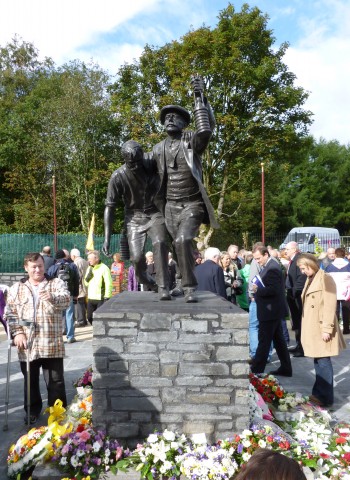 [The Welsh National Mining Memorial]
The official unveiling and dedication of the memorial was preceded by a performance from the Aber Valley Male Voice Choir. Roy Noble, the patron of the Memorial Trust, gave a short address on the significant place of the Senghenydd disasters in Welsh history, before the memorial was unveiled. Official floral tributes were laid at the memorial by the First Minister of Wales Carwyn Jones, as well as by other politicians and local dignitaries. Wayne Thomas (the General Secretary of the South Wales Area of the National Union of Mineworkers, as well as the NUM National Vice-President) was also in attendance and the banners of the South Wales NUM and the Durham Miners' Association were on display, although the Union played no formal role in the day's proceedings.
Back