Blog
22 Nov 2013

UK Disability History Month Blogs 2013: Introduction - Mike Mantin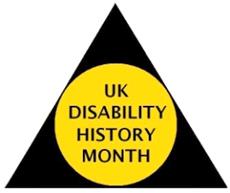 Today sees the start of UK Disability History Month, which has an impressive programme of activities devoted to the history and heritage of disabled people in the UK. Events are scheduled throughout the month and across the UK including workshops, exhibitions and arts festivals. The month is also an excellent opportunity to explore the vitality of current disability history and reflect on some of the challenges faced when writing it.
Disability history no longer means writing about disabled people as passive recipients of treatment or care, or statistics in institutional, medical or governmental records. There is now an ever-growing scholarship which focuses on the experiences of disabled people in history, identifies how the policies of institutions, voluntary organisations and the state affected disabled people, and recognises that disability is central to almost every area of historical life. As Douglas Baynton pointed out, "Disability is everywhere in history, once you begin looking for it".
It is only since the development of the social model of disability in the 1970s that disability history has emerged as a specifically-focused field. This rejected the notion that disability could be explained as an individualised, personal tragedy. The Union of the Physically Impaired against Segregation in 1975 crucially defined disability (PDF) as "imposed on top of our impairments by the way we are unnecessarily isolated and excluded from full participation in society." Disability was defined as something created by social factors that could not be explained as solely an individual issue. UK Disability History Month's theme of 'Celebrating our Struggle for Independent Living' reflects the intrinsic link between disability history and activism, and highlights the fact that medical and educational institutions could play a part in creating rather than alleviating social barriers.
Today, a vibrant scholarship is taking disability history into new places and introducing new theories and ideas (we have catalogued some key texts in a bibliography on our site). Historians have brought in the issue of the representation of disabled people in culture, ranging from films to literary readings of disability as a melodramatic trope. Likewise, historians of earlier periods are finding disabled people in places where they were once rarely mentioned, such as contributor David Turner in his book of last year, Disability in Eighteenth Century England. The potential of oral history to put disabled people at the centre of their own history is being recognised, and disability history is beginning to enter the mainstream in heritage, as seen most clearly in English Heritage's recent Disability in Time and Place and soon in the exciting new work by Cerebral Palsy Midlands, who have contributed a blog post introducing their heritage project.
This expansion has brought with it new debates, opportunities and challenges. With this in mind, the Disability and Industrial Society project blog is hosting a series of posts from academics, students and organisations and societies all focusing on their experiences of working in disability history. Topics covered range across historical periods and showcase sources and methods of writing history, including oral history, literary sources and material culture. We hope that this month of blog posts will introduce some new aspects and directions in disability history, explore its nature and importance and identify exciting new ways of how we can keep looking for it.
UK Disability History Month Blogs 2013
Back