Blog
28 Nov 2013

UK Disability History Month Blogs 2013: Cerebral Palsy Midlands: How our project contributes to Disability History and why we need Disability Heritage - Lottie Clark

Hello all, my name is Lottie Clark and I am currently coordinating the heritage project at Birmingham-based charity Cerebral Palsy Midlands. Our Heritage Lottery Funded project is entitled, 'Fulfilment Through Achievement: The History of Cerebral Palsy Midlands & its Community of People 1947-2014,' and aims to look at the extensive 66 year history of the charity. The charity has remained on the same site, in the area of Harborne, since its founding by three noteworthy individuals; Mr Paul Cadbury (of the chocolate dynasty), Dr Earl Carlson (an American doctor with Cerebral Palsy) and Dr Stephen Quayle (a local physician).

The site was originally the prominent Carlson House School for children with Cerebral Palsy and related conditions; it was the first of its kind in the UK and has remained independent ever since. Despite the charity's amazing legacy and progressive ethos it is still little-known, both within the local community and at a national level. This is one of the driving factors for us gaining funding for a project aimed specifically at our history. It is the hope of all involved that by drawing the focus of attention to our heritage we can engage new, broad-ranging audiences.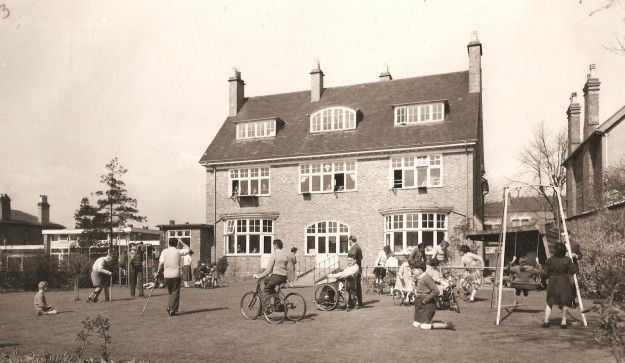 [Carlson House School, 1960s. Copyright: Cerebral Palsy Midlands]
Disability can be perceived as such a specific area of interest, however right or wrong this perception may be, and so trying to engage those outside of any initial circles affected is both challenging and worthwhile. And, coinciding with my bias as a historian, history is the perfect 'access ticket' into this area! The extremely popular BBC Radio 4 series, fronted by Peter White, 'Disability: A New History' gained a plethora of listeners from all backgrounds, simply because they found the subject interesting. History is a great gateway into any subject; especially those that many may feel do not directly affect them. Who isn't enthralled to find a link with their past they were previously unaware of? 'Disability: A New History' (and many other programmes emerging within this area) showed that the archaic and naïve perceptions of disability as 'hidden away' are both inaccurate and damaging. As society has finally turned its back on the asylums and institutions used to house, 'treat' and fundamentally hide disability away, history is being sourced and re-discovered to begin representing the voices and stories of those at the centre of it, not the institutions that chose to speak for them.
This is, again, another reason why our funding bid was well received as, at the heart our project, is a 40-strong oral history programme. We have used the past 6 months to collate as many conversations with people connected to our charity's history as possible. We've spoken to those individuals who have been with the charity since it was a school, younger members who have experienced growing up with Cerebral Palsy in a society that has different aims and outcomes for them, staff and family members who have seen perceptions shift and change, even the founding headmistress Christine Brown (nee Woodhall) who opened the Carlson House School back in September 1948! These stories are vital for the charity's history, but also our history as a whole. We can no longer rely on 'authorities' to tell our stories – we need to do it for ourselves.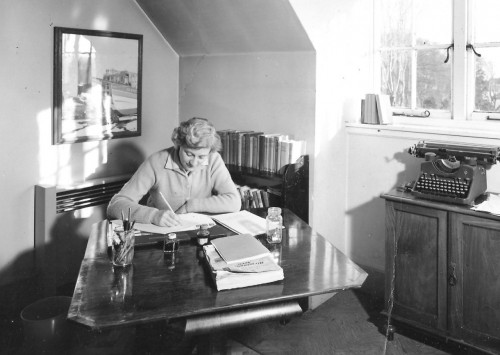 [Miss Christine Woodhall. Copyright: Cerebral Palsy Midlands]
Cerebral Palsy Midlands, and many other charities, continue to fundraise and bid for support, just to cover the cost of heating our building or ensuring people can still get to our premises, even if it snows this Winter! It seems odd, perhaps paradoxical, that the HLF have so readily encouraged 'Fulfilment Through Achievement.' Yet, I believe, they see the overwhelming response people have to disability heritage, and how important it is to society as a whole. Richard Herring, comedian foremost, disability campaigner somewhere on the list, once pointed out that, one day, we'll all be disabled. And what better reason to be interested in disability heritage do you need than that? As we are all living longer than our predecessors it seems obvious that disability will affect us all eventually. As Herring says, "we'll be in an accident or we'll get old." We need to start looking into the history of disability for the same reason we look into the past of any subject, to learn from it; to use the information, the bias, the tragedy, the injustice, the perseverance and the joy to inform society going forward. If we're all going to end up encountering and dealing with something, we had better start understanding the journey it's been on!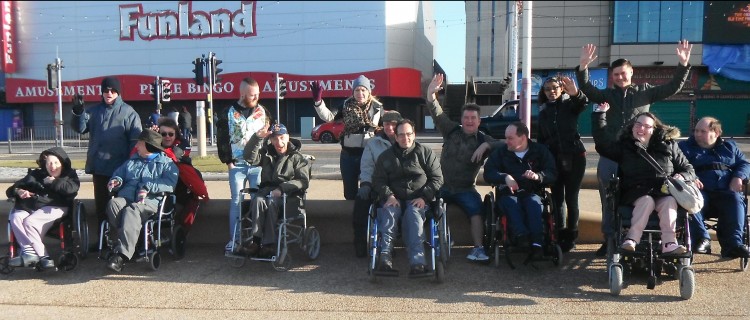 [A group from Cerebral Palsy Midlands on a recent holiday in Blackpool, November 2013. Copyright: Cerebral Palsy Midlands]
My museology background has continued to inform me on the challenges of representation and interpretation, and bias will never be completely avoided, but what better way to combat this than by holding a mic to those at the forefront of disability, the people who deal with it day in, day out? I love being involved in such a progressive approach that challenges me on a daily basis, and should hopefully result in an amazing exhibition, outreach programme and anniversary book to truly reflect the Cerebral Palsy community we have here.
Lottie Clark is Heritage Project Co-Ordinator for 'Fulfilment Through Achievement: The History of Cerebral Palsy Midlands & its Community of People 1947-2014'. For more information, contact Lottie by email, visit the CP Midlands website or follow them on Facebook and Twitter.
Back