Blog
09 Dec 2013

UK Disability History Month Blogs 2013: The Long History of 'Disability History' - David Turner

Disability History Month began in the UK in 2010 as means by which disabled people and organisations could celebrate - and educate others about - the history of disabled people's struggle for equality and human rights. Empowerment through the recognition of a shared past is an essential feature of Disability History Month, and in this respect it shares characteristics with other civil rights movements. But while Disability History Month clearly has its origins in modern activism and the growth of the Disability Movement over recent decades, the use of the past by disabled people to challenge preconceptions and search for a common identity is not a new development. Several remarkable – but now largely forgotten – writers in the eighteenth and nineteenth centuries drew on historical precedents and examples to write their own, strikingly modern, 'disability histories'.

In 1754, William Hay (1695-1755), MP for Seaford in Sussex, published Deformity: An Essay, an autobiographical account of his experiences as a man with a curved spine and restricted growth. The Essay vividly documented the insensitivity and abuse he experienced at the hands of the 'mob', and challenged preconceived notions about the 'deformed' as being devoid of natural affection (as a consequence of being scorned or neglected by others), or sensibility. Whilst Hay's primary concern was with the present, he drew upon history in various ways in order to challenge dominant views of the physically different. Contempt for the 'deformed', he argued, was in part a consequence of the defamatory portrayal of characters such as Richard III by historians who had presented him as a 'Devil in a bad Shape'. Hay also recognised his own ill treatment in the street by strangers who failed to respect him according to his rank and political office in the history of King James I's minister, the Earl of Salisbury. Mocked by the populace on the grounds of his 'deformity', the Earl's case provided evidence that 'the highest Post cannot redeem a deformed man from Contempt; it attends him like a Shadow and like that too is ever reminding him his ill Figure; which is often objected [to] for want of real Crimes'.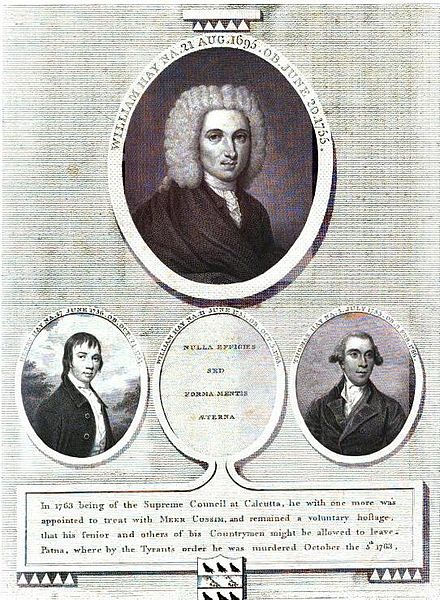 [An engraving of William Hay and his sons, 1794.]
Whilst Hay drew on history to provide examples that supported his account of the treatment of the 'deformed' in his own time, by the nineteenth century writers with disabilities were beginning to produce more detailed histories which sought to raise awareness of the capabilities of people with similar impairments to their own. James Wilson was born in Richmond, Virginia in 1779, the son of a Scottish 'mechanic'. He lost his sight as a result of childhood smallpox. After the death soon afterwards of both his parents, he sailed to Belfast where he found work delivering newspapers, but quickly developed a love of literature. In 1803 he was admitted as a member of the Belfast Reading Society, where he devoured works of ancient and modern history, poetry, biography, novels, and travels with the help of a fellow member who read to him each evening. Wilson began to write poetry, but turned to biography at a moment in his life when he was feeling disheartened at poor sales of his work and wanted the challenge of working on something 'on which [he] could employ [his] mind more extensively than it had been hitherto engaged'. His knowledge of literature had taught him that 'there were many in all ages, and in every country, who had laboured under the same calamity [as] myself, and who had eminently distinguished themselves by their attainments in literature and science'. Wilson thus embarked on his greatest project, a 'Biography of the Blind', which was published in 1820.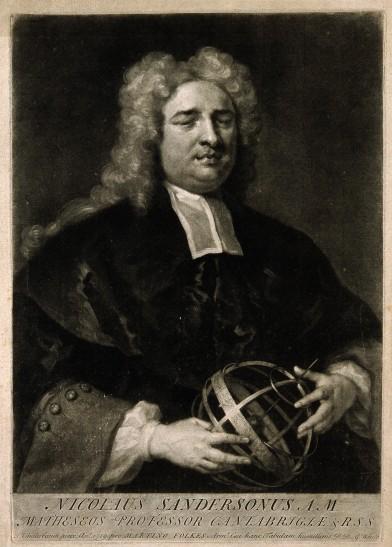 [Nicholas Saunderson, one of the subjects of James Wilson's Biography of the Blind, 1719. Image source: Wellcome Library, London.]
Wilson's work celebrated the lives and accomplishments of blind people from ancient times to the near present. His subjects included famous literary figures such as the poets Homer and Milton, the mathematicians Nicholas Saunderson and Leonard Euler, and various notable musicians, writers, clergymen and engineers. The book also recorded the lives of more obscure figures, such as Thomas Wilson 'the bell-ringer of Dumfries'. Although predominantly a history of blind men, Wilson did include some female figures such as Anna Williams, who had been discovered by Samuel Johnson who invited her to live in his home as a companion to his wife. Williams had published a translation of the 'Life of the Emperor Julian' by the Abbé de La Bleterie in 1746, six years after she had lost her sight due to cataracts. For Wilson, the publication of these biographical accounts of eminent blind people had a political purpose and was written 'with a view of rescuing my fellow sufferers from the neglect and obscurity in which many of them were involved'.
Wilson attracted some eminent fans, including the poet Robert Southey, and a second edition of his book was published in 1836. Another admirer of Wilson's work was a young Belgian woman living in London, Hippolyte Van Landeghem, who published her own biography of the blind in 1865 under the title Exile and Home. Blind since birth, Van Landeghem was a campaigner against the system of 'exile schools', which separated 'four sensed' blind or deaf children from mainstream society and poorly prepared them for life in the 'five sensed' world. Van Landeghem used the histories of eminent blind persons to criticise the low expectations of society with regard to the capabilities of visually impaired people. She aimed her book not at mature readers whose minds were closed, but at the 'intelligent young' who, 'while profiting by these great examples of courage and perseverance, are more likely to rectify the social blunder which we, like our forefathers, have hitherto permitted to exist unquestioned'.
In these old and forgotten texts we can hear echoes of what Disability History Month is now trying to achieve. With her powerful call to end the social 'exile' of the blind, Hippolyte Van Landeghem would no doubt have approved of this year's theme of 'Celebrating our struggle for Independent Living: No Return to Institutions or Isolation', while her appeal to the 'intelligent young' as the ones capable of making a difference, strikes a chord with the modern emphasis on education. In marking Disability History Month we should rightly focus on the recent struggles of disabled people and their allies to achieve social inclusion. But in the process, let us not forget those disabled people who saw the potential of the past to bring about political change in centuries gone by.
David Turner is Reader in History at Swansea University and Co-Director of the Disability and Industrial Society project.
Further reading:
Guest post for Disability and Industiral Society's UK Disability History Month Blogs 2013.
Back