Blog
16 Dec 2013

UK Disability History Month Blogs 2013: The Thalidomide Disaster - Anne Borsay and Ruth Blue

In summer 2012, the German drug company, Chemi Grűnethal, unveiled a bronze statue of a child without limbs to commemorate those who had died or been born impaired due to the drug, thalidomide. The accompanying apology was greeted with derision. Between 1957 and 1962, Chemi Grűnethal had licensed the worldwide manufacture of thalidomide as a safe treatment for pregnant women suffering from morning sickness and sleeplessness. However, the drug had not been robustly tested and early warning signs were ignored.

In Britain, the whisky producer, Distillers, took up a licence and marketed thalidomide under the Distaval label. As a result, over 650 babies were born with thalidomide-induced impairments, which ranged from extra digits to tetra phocomelia when both arms and legs were incompletely developed. The number of still births, 'mercy' killings and natural or induced abortions are an unknown quantity. The drug was finally withdrawn in December 1961 and the last thalidomide baby was born in the following year.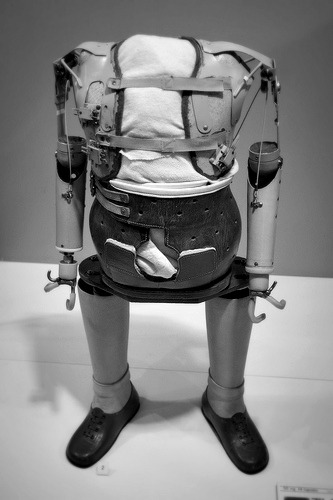 [A Thalidomide child's prosthetic suit. Image: dooogewalah on Flickr.]
To mark the fiftieth anniversary of these events, the Thalidomide Society of parents with affected children approached the Wellcome Trust about an exhibition. The Trust commissioned a scoping exercise to identify documents, images and artefacts, and thalidomide featured in the Superhuman exhibition at Wellcome Collection in 2012. To our surprise, the scoping exercise showed that there were no oral testimonies of this exceptional event in medical history. This led us to seek funding for an oral history project which was funded by Wellcome Trust.
The questions that we asked followed many themes from the received birth stories that thalidomide children were told to medical intervention, institutional and community living, education and employment, personal relationships, becoming a parent, the experience of discrimination and the ageing process. To illustrate the power of the testimonies, we will look briefly at attitudes to the drug companies, reactions to the imposition of prosthetic devices and the process of assessment for compensation.
The passage of time had done little to diminish the contempt that thalidomiders expressed towards the companies that had supplied the drug. For Geoff Adams-Spink, former BBC disability correspondent, they were:
A bunch of charmless, unapologetic bullies, liars, cheats and abusers on a serial scale and I don't think they deserve to breathe the same air as me.
Charities and government attempted to redress the effects of the thalidomide by offering medical support, often in the form of prosthetic (replacement) limbs. Most thalidomiders rejected these devices and found the process of assessment and enhancement that they were supposed to bring uncomfortable and unnecessary. As Hazel Simmons explained:
when you're born with thalidomide impairments no one can tell you what to do so you just find your own way of doing it. And it's as completely natural as it is for you to get up and walk – it was as natural for us to do things the way we do them. People go on about how we've adapted. We haven't adapted, it's completely natural, because you can't use what you ain't got ...
When compensation was finally awarded after more than a decade of bitter struggle, doctors became involved in an assessment process which many thalidomiders recalled as unfair. In the words of entertainer, Mat Fraser:
the only thing I can remember is they said, "Do you see that cabinet behind you?" ... "There are some sweets in the top drawer. If you want, you can take them." And so I computed immediately that I wouldn't reach, so took the chair over with me, stood on the chair, pulled opened the drawer and got the sweets. And they started writing stuff down.
Only years later did he realize that this was an ability assessment. Had he known at the time, he said, 'I would have crawled across that fucking carpet on my chin and gone, "I can't reach the sweets" and pathetically tried and failed and really made a meal of it.'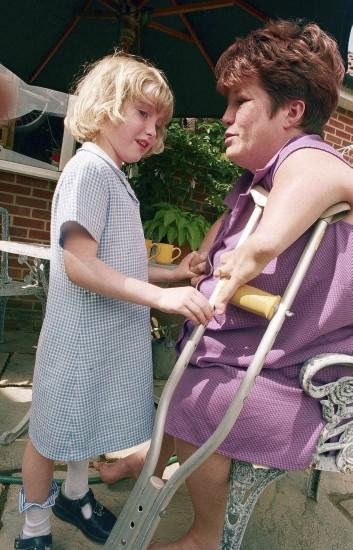 [A woman showing the effects of Thalidomide. Image: Larry Dunstan, Wellcome Images.]
Thalidomiders are a distinctive category of what sociologists have called 'biological citizens' [1] whose identity is bound up with the prescription of a toxic drug to their mothers. The disability movement has traditionally rejected such medical definitions of impairment and stressed the social manufacture of discrimination and oppression. Despite their unique identity, however, the experiences of thalidomiders also resonate with those of disabled people as a whole. Therefore, the oral history of thalidomide will make an important contribution to disability history, helping to give voice to a group until recently missing from the past.
Transcripts and recordings of the full interviews will soon become available on the Wellcome Library website.
[1] Bill Hughes, 'Disability Activisms: Social Model Stalwarts and Biological Citizens', Disability and Society, vol. 24, no. 6 (October 2009) 677-88.
Anne Borsay is Professor of Healthcare and Medical Humanities in the College of Human and Health Sciences at Swansea University and Principal Investigator and co-director of the Disability and Industrial Society Project. Ruth Blue is Assistant Curator of the Moving Image and Sound Collection at the Wellcome Library.
Guest post for Disability and Industiral Society's UK Disability History Month Blogs 2013.
Back