Blog
19 Mar 2013

Disability Wales' Story at 40: Building an oral history of disability - Mike Mantin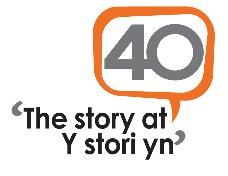 Back in December 2012, on the International Day of Disabled People and during UK Disability History Month, Disability Wales launched their Story at 40 project. Story at 40 catalogues and presents the histories and recollections of six disabled people all born in 1972, the same year as the organisation itself. Put together by a team of disabled volunteers who received training in production and oral history, the project is an important record of the lives of disabled people in Wales.
As well as aligning itself with Disability Wales' policies and campaigns against disability discrimination, the interviews of Story at 40 – all uploaded to Youtube with subtitles, audio descriptions and BSL and Welsh translations – the project represents a vital step in oral disability history, each interview offering a glimpse into the experiences of people who rarely have their everyday lives and opinions broadcast.
As such, Story at 40 presents a range of perspectives on disabled people's everyday lives. Many of the interviewees talk about their childhood and education with very different opinions. April talks about being visibly disabled and the emotional pain and loneliness this caused her at school, where she experienced discrimination from her headmaster. Whereas Lyndzi has fond memories of her special school, including mixing with children from the nearby mainstream school in the playground. The personal impact of technology and medicine often come up: Sarah discusses the impact of subtitling for deaf people, recalling watching TV without the need of her family to describe it. Ceriann openly talks about her history of diagnosis for depression and hypothyroidism – she was simply given acne and water tablets as a child, but she has praise for the empathy shown by later doctors. Most importantly, Story at 40 allows its participants to discuss what being disabled means for themselves and their identity. Whether it concerns activism, sign language, labelling or coming to terms with a condition, all have something to say.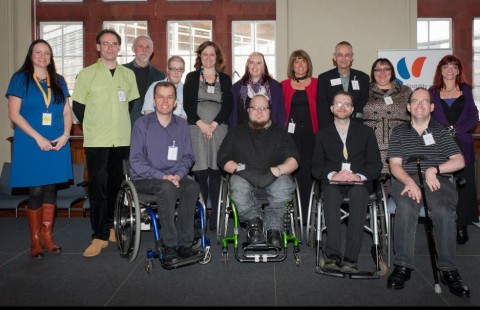 [the Story at 40 participants]
Disabled people are difficult to locate in history. Often they appear to be invisible in historical sources, and what isn't said in the records becomes as significant as what is. Oral history can be one of a number of different ways to ensure that the recent history of disabled people does not go undocumented. This is beginning to be recognised by historians: Stephen Humphries and Pamela Gordon's Out of Sight: The Experience of Disability, 1900-1950 and Maggie Potts and Rebecca Fido's A Fit Person to be Removed: Personal Accounts of Life in a Mental Deficiency Institution both built strong historical works out of the authors' interviews with disabled people in the 1990s. Other projects have appeared more recently, such as the Disabled Women's Art Project's Hidden HerStories: Lives of Merseyside Deaf and Disabled Women which recently released a DVD of its interviews and presented it at conferences and events around Mersyside and elsewhere.
Disability Wales' Story at 40 has recently been nominated for a National Lottery Award. Fingers crossed for its success, and that more oral disability history work will take place in the future.
Watch all the Story at 40 interviews: https://www.youtube.com/Disabilitywales
Disability Wales: http://www.disabilitywales.org/
Back