Blog
29 Apr 2014

Report: Coalfield Disability Witness Seminar - Angela Turner

The project team based at Strathclyde held a 'Witness Seminar' at the Scottish Oral History Centre on the 28th of April. The four witnesses invited to speak were Nicky Wilson (General Secretary, NUM Scotland), Myrette Bracken (social worker, CISWO), David McWinnie (ex-miner with pneumoconiosis and COPD) and Alex Bennett (NUM representative on Medical Appeals Tribunals). The day began with the four individual eye witness testimonies and was followed by a wider discussion which included all the seminar participants.

Each of the four witnesses spoke about their experiences of disability in the Scottish coalfields. These testimonies revealed many significant and distinctive aspects of disability in mining communities. All four speakers pointed to the high incidence and visibility of disabling injury and disease amongst miners. They also spoke about the ways in which disabled miners often continued to work post- injury. A number of testimonies highlighted the importance of community networks, organisations such as CISWO and the role of the union in supporting injured miners and their families. The testimonies however pointed to the difficulties involved in claiming compensation for disablement or disease and the ongoing issues associated with the recognition of conditions such as pneumoconiosis and COPD.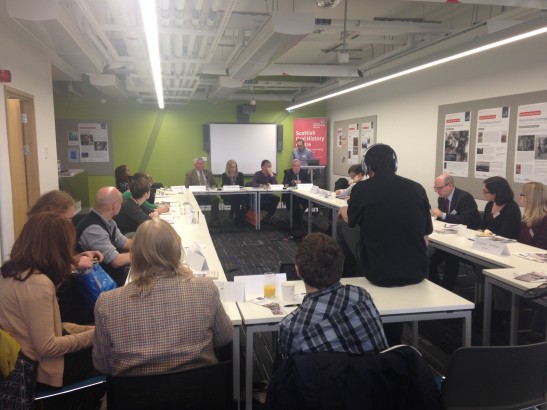 [Participants at the witness seminar - click for larger image]
The audience included representatives from museums and archives, community groups, medicine, education and the Scottish Parliament. The resulting questions and discussions again highlighted important themes and issues to consider for our project and work beyond. For example questions were raised over concepts of identity and how appropriate a label 'disability' was in these communities. In addition there was a great deal of discussion about the importance of mental as well as physical health. In particular witnesses spoke of the high levels of trauma associated with working underground and in witnessing or being involved in serious accidents.
The seminar has been fully recorded and will be available as a resource over the next few weeks. We hope to use it both in considering themes and research questions for future work but also as a teaching resource for our oral and health history students.
Back