Blog
17 Jul 2014

Mining for Memories: Scottish Disability History Roadshow - Angela Turner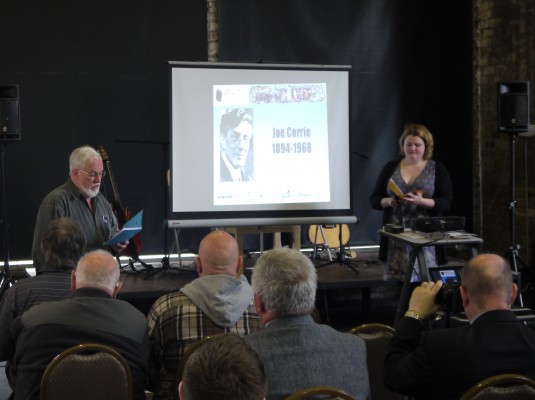 [Alexandra Jones and local actors read and discuss Joe Corrie's 'The Darkness']
The Scottish research team organised the 'Mining for Memories' Roadshow on the 14th of June at the National Mining Museum Scotland. The day involved a mixture of talks, performances and presentations from members of the team and invited guests. One of the highlights of the day was a live reading of the Joe Corrie play 'The Darkness' in which a miner has been blinded in an accident at work. The talks included a presentation by disability historian Iain Hutchison who spoke from his own personal family history of coal mining and disability. Ewan McVicar, a local songwriter, carried out a number of workshops with local school children around the themes of disability, accidents and coal mining and gave a great presentation of the children's artwork and original songs. Also performing on the day were poet Rab Wilson and local band Travelling Folk. We were struck by just how many people who presented or who attended the day had their own personal stories to tell about mining and disability. The exhibition boards and stalls, which included displays some old style prosthetic limbs as well as documents, books, photographs and a mines rescue wheelchair led to some really interesting discussions with retired miners who were able to speak of their own memories in relation to these.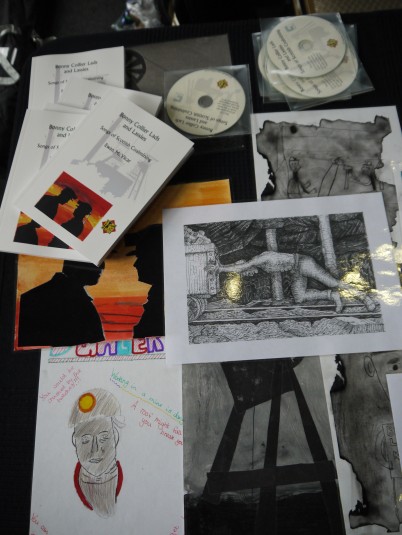 [Work from Ewan McVicar's schools project - click on the image for larger size]
The day finished with a discussion panel and Q and answer session which was chaired by Nicky Wilson (General Secretary, NUM Scotland). Other speakers included Alex Bennett (NUM representative on Medical Appeals Tribunals) and Prof Ken Donaldson (Emeritus Professor of Toxicology, University of Edinburgh)
All the sessions can be accessed on our website and as a podcast on iTunes and Feedburner.
Back