Blog
03 Sep 2014

Anne Borsay: a short tribute

Anne Borsay, head of the Disability and Industrial Society project, sadly passed away in August 2014. Here we present a short tribute to the work of our project leader and friend to everyone involved, written by Mike Mantin.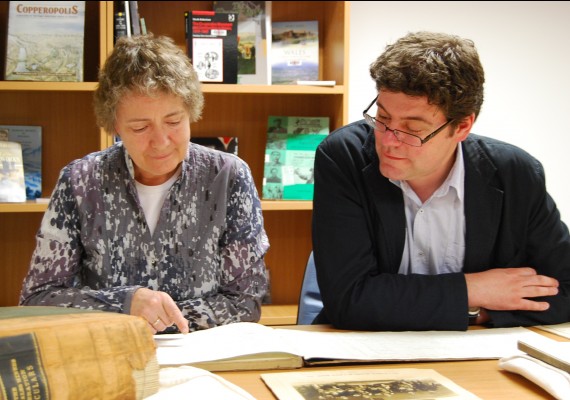 [Anne Borsay and David Turner at the launch of the Disability and Industrial Society project]
The influence of Professor Anne Borsay was felt amongst almost anyone working on the history of medicine. Through her work, she examined institutions of medicine with critical detail, including the exhaustive study of the Bath General Infirmary Medicine and Charity in Georgian Bath (1999) which shone light onto the social structures of voluntary hospitals. She also produced countless articles and chapters on the history of hospitals and nursing, including editing the collection Nursing and Midwifery in Britain since 1700 (2012) with Billie Hunter.
Anne was in particular a pioneer of disability history, contributing a huge wealth of ideas and studies to what is now a flourishing field of history. Her work looked at changes in social, cultural and political attitudes towards disability, bringing out the importance of recording the often-ignored place of disabled people within history. Her definitive book, Disability and Social Policy in Britain since 1750: A History of Exclusion (2005), received acclaim and attention both for its historical detail and scope, and its relevance to the continued struggle for disability rights. It remains a crucial text for any disability historian today. Since its publication, Anne wrote regularly about other aspects of disability history and co-edited a volume with Pamela Dale, Disabled Children: Contested Caring (2012).
Professor Borsay contributed consistently to societies and conferences and organised the Research Group for Health, History and Culture at Swansea University. Anne taught on many aspects of the history of medicine at Swansea University; her students and those lucky to have her as a PhD supervisor will remember how tirelessly she worked to ensure their success.
Disability and Industrial Society was her final major project. She led a team of historians from across Britain to explore the history of disability in the coal industry, aiming to re-examine the historical relationship between disability and industrialisation. The project continues in memory of Professor Borsay, who will be remembered not just as a brilliant historian but as a much-loved friend and colleague.
Back