Blog
04 Jun 2015

From Pithead to Sick Bed Exhibition Blogs: The Trambulance - Mike Mantin

In the run-up to our exhibition at the National Waterfront Museum, which opens on 20 June 2015, we will be showcasing some of the artefacts on display, and why we chose them to illustrate the disability history of the coal industry.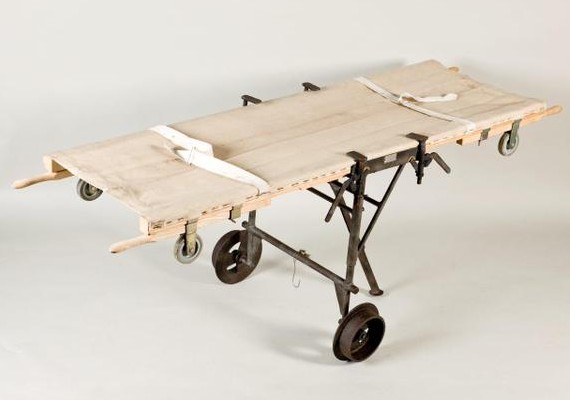 [The trambulance. Image courtesy National Waterfront Museum/Museums Wales]
Our exhibition, 'From Pithead to Sick Bed', takes us through the life of a disabled miner from the moment of accident to their medical recovery, fight for compensation and their family life. This 'trambulance' - essentially a basic mobile stretcher - was sent underground to carry out injured miners who had met with one of the many accidents that could befall a miner. Falls of roof, explosions and being hit by trams of coal were just some of the many potential hazards of mine work underground. The trambulance represents the very beginning of this narrative, evoking powerful images of miners rushing to rescue injured colleagues.
[l: The original trambulance on display at Big Pit National Coal Museum. r: A miner bandages an injured colleague with a makeshift stretcher visible. Image: Wellcome Library, London]
We have encountered two trambulances whilst working on this exhibition. The first, held at Big Pit National Coal Museum in Blaenavon, features a cover with a red cross sign and is arguably more striking visually. However, when it was revealed to in a condition that was almost impossible to transport (its days of rescuing are long gone), the museum found a replacement that had certifiably been used underground. Its sparseness suggests the need to improvise much of the safety and rescue within a coal mine.
The experience represented by the trambulance was, of course, hardly universal to disabled people in coalfield communities. Many disabilities and diseases which developed from miners' work did so slowly. Those with the dust diseases silicosis or pneumoconiosis or the eye condition miners' nystagmus found themselves developing their condition slowly. This created an extra layer of difficulty for those claiming compensation, who had to prove their disability originated at work. The miner B.L. Coombes wrote in his autobiography These Poor Hands that miners with silicosis who moved found that 'no company will admit that they contracted the disease while at work'. So while the trambulance perfectly evokes the beginning of one experience of disability, it is by no means the only one. The rest of our exhibition needed to reflect this.
Back