Blog
11 Jun 2015

From Pithead to Sick Bed Exhibition Blogs: George Preece, Disabled Miner - Mike Mantin

In the run-up to our exhibition at the National Waterfront Museum, which opens on 20 June 2015, we will be showcasing some of the artefacts on display, and why we chose them to illustrate the disability history of the coal industry.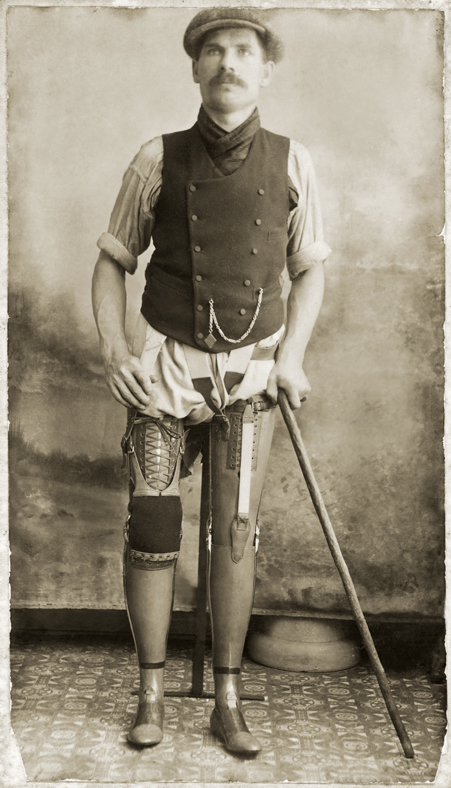 The man in this photo, which adorns the opening panel of our exhibition and its publicity page on the National Waterfront Museum, is a former miner from South Wales named George Preece. Born in 1880, he was injured whilst working underground in his late twenties when a tram travelled over his legs. It can be difficult to find such a photo like this when looking for photographs of disability history – a simple portrait, looking directly into the camera.
The photo was donated to Museums Wales and found for us by their staff. However, we still knew very little about George himself. This was kindly supplied by one of Preece's grandnieces, Helen Hier, who answered our request for some more details back in January. George was born in Pembroke and moved to the valleys to work in the mines. When George met with his accident, he was taken to the nearest train station, Abercynon, and travelled from there to Cardiff Infirmary.
However, George actually disliked the painful artificial limb which he wears in the photo and chose to use a wheelchair for most of his life. Without this information, this could easily be missed. Even despite the personal nature of this source, it is another reminder that the way disabled people in history are presented in photographs and visual culture might not necessarily be how they presented themselves in everyday life. So although this did not stop us from including this photo, it was important to get this context. Photography can be a brilliant source, and we use lots of it in the exhibition, but it can ignore details like this, or miss out those with invisible disabilities.
Preece did not return to the mines, nor did he have any formal rehabilitation. Instead, he spent much of his time with his cousin, Susan Lily, and her children. He also took up crocheting, and we include one of his artworks – a white crochet of a battleship – in the exhibition. George is remembered fondly by his family, and we are grateful to them that we can present some of his story.
Photograph copyright Museums Wales. Thank you to Helen Hier for the information about George Preece used in this blog post.
Back