Blog
18 Jun 2015

From Pithead to Sick Bed Exhibition Blogs: "Help in Time of Need" Banner - Mike Mantin

In the run-up to our exhibition at the National Waterfront Museum, which opens on 20 June 2015, we will be showcasing some of the artefacts on display, and why we chose them to illustrate the disability history of the coal industry.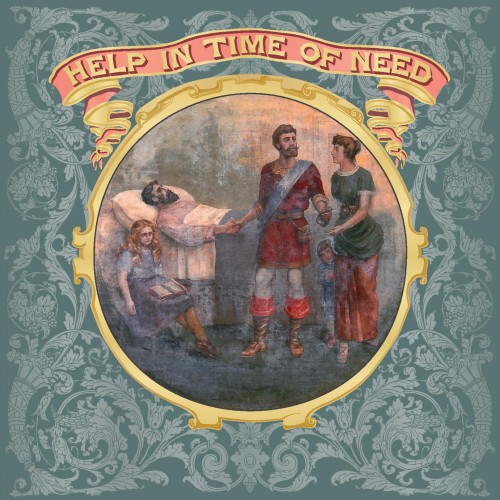 When our exhibition opens this Saturday at the National Waterfront Museum, visitors will be greeted by this astonishing banner of the Bristol, West of England and South Wales Operatives Trade and Provident Society, Branch No.1 in Ferndale, South Wales. The banner was found and researched by Sian Williams of the South Wales Miners' Library. The banner in its original form, made by George Tutill [PDF] of London between 1890 and 1900, would have been displayed proudly at the Annual Parade of the local branches of the Bristol, West of England and South Wales Operatives Trade Society every summer. It's therefore well-loved and tattered, so our version is a replica banner restored by Swansea-based graphic designers Ridler Webster.
We were delighted to feature the banner in the exhibition, as it immediately hits viewers with reminders of aspects of disability politics in the coalfield which so often go unnoticed: not just workers helping each other through trade unions, but also family members. The presence of the miner's family alludes heavily to the importance of relatives in giving medical, financial and emotional support to miners who met with injury, which is a theme in both the exhibition and the research we have done as part of the project. Why everyone is dressed in togas is another matter, but it does suggest a sense of history and tradition that the Society would have been keen to project. This theme is continued on the other side of the banner, as seen below.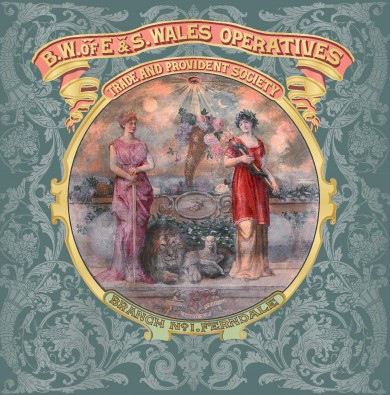 Miners' unions and friendly societies like this had a long history which stretched from the 18th century, continuing but steadily declining during the 20th century as new forms of state welfare such as workmen's compensation and national insurance began to compete with their voluntary self-help. Disability benefit was offered by many, though almost monitored through sickness visits and even clauses in the societies' contracts which forbade members from joining who had not yet had an accident or were already disabled. A Registrar of Friendly Societies was appointed in 1846 and a Friendly Societies Act in 1875 regulated them through accounting and inspection. Often these societies met with opposition with coal owners who banned them or formed rival Permanent Relief Funds (see this earlier blog post for an example of the debates these could cause). Yet they have been largely ignored by historians despite running, according to the historian Simon Cordery, 'like a bass line through British social history'.[1]
It is a wonderfully visual telling of a, but as with other artefacts in our exhibition, it does not represent the totality even of coalfield trade unions and friendly societies. The Bristol, West of England and South Wales Operatives Trade and Provident Society was a relatively small group with little historical record and an unusual setup: it was very rare to see localised groups extending beyond South Wales and into the comparatively small South Western coalfield, which employed less than half the number of people as the South Wales mining industry.[2] But while we have to keep these limitations in mind, the banner presents us with a striking, visual representation of coalfield disability, which we hope to expand and deconstruct in our exhibition itself.
Thanks to Sian Williams of the South Wales Miners' Library for supplying the information for this blog post.
[Right photo: the back of the banner]
Notes
[1] Simon Cordery, British Friendly Societies, 1750-1914 (Basingstoke, 2003), p.11
[2] Mines and quarries: general report and statistics for 1900. Part I, p.11
Back