Blog
25 Jun 2015

From Pithead to Sick Bed Exhibition Blogs: Listening post literature readings - Alexandra Jones




As our exhibition at the National Waterfront Museum opens this month, we will be showcasing some of the artefacts on display, and why we chose them to illustrate the disability history of the coal industry.
Literature has been an important strand of the project's research, and to try and bring this to life in the exhibition there will be a listening post [pictured above] with eight readings of literary extracts. It was hard to choose just eight but each extract was chosen to represent a brief glimpse into some of the ways disability appears in coalfields literature.
There are four readings from English-language literature ranging from 1902 to 1938. A scene from Allen Raine's A Welsh Witch (1902) is the earliest of these extracts. Raine, born in Newcastle Emlyn in 1836, was one of the best-selling novelists of her day, and this novel sold an estimated three-hundred-thousand copies. The chosen reading describes rescuing men from a pit disaster, told from the perspective of the women waiting for news of their trapped men, and the shock of the visitor at the stoic calmness of the rescued, 'it was all in their days work!'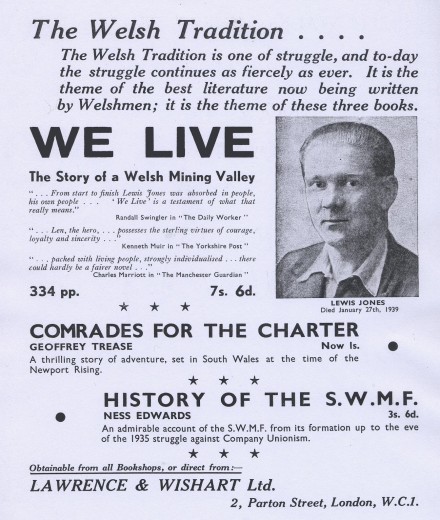 The other three English readings are from the 1930s, a time when there was a great increase in the amount of coalfields literature written, including many novels by coal miners. A scene from Lewis Jones's Cwmardy (1937) shows how disability was interwoven into political speeches. Jones was born in Clydach Vale, a coal miner before becoming a full-time political activist, renowned for his powerful speeches.
The next extract, a poem from Idris Davies's Gwalia Deserta (1938), again shows the way injuries are highlighted in political protest. Idris Davies was born in Rhymney and worked as a miner until his pit closed in the 1926 General Strike. The final English-language extract is from Dr. A. J. Cronin's The Citadel (1937), an international best-selling novel that was widely believed to have influenced public opinion in favour of establishing the NHS. The extract is from a scene underground, where a trapped miner must have his arm amputated, told from the perspective of the doctor who is under terrible pressure in that small space under the unsafe roof.
The four Welsh-language extracts again come from poetry and novels . The earliest is a scene from Gwyneth Vaughan's O Gorlannau y Defaid (1905) and captures the way industrial regions were commonly portrayed as a damaging and sinister on a community or national level. Vaughan was born in Talsarnau in 1852, and took up writing Welsh novels after her husband's death in 1902. Of the next extract, the poem 'Awr Dywyll' (1924) by John Jones there is very little known about the author beyond his inclusion in a poetry collection. However, his poem speaks strikingly about the ever-present threat from the coal mine, the 'dark hour' when a miner killed in the pit is carried home by his workmates.
From T Rowland Hughes's William Jones (1946) a dialogue between a miner and his brother-in-law describes the ridiculousness of the compensation system for silicosis, in which the price of compensation is a gravestone. Rowland Hughes was born in Llanberis, a quarryman's son who became an academic, an Eisteddfod-winning poet, and a producer for the BBC. He took up writing novels after being diagnosed with multiple sclerosis in 1937 and continued to write until shortly before his death at the age of 46.
'Y Meirwon' a deeply moving poem by Gwenallt is the final choice. Gwenallt (David James Jones) was born in Pontardawe, and became a renowned poet and academic. An extract from 'Y Meirwon' describes a community surrounded by the presence of industry and the inevitable and oppressive presence of dust disease.
[Top photo: The listening post, where you can listen to each the extracts. Right photo: Advert for Lewis Jones' novel We Live from publisher Lawrence & Wishart. Click each photo for a larger version.]
Back