Blog
10 May 2013

An English Heritage Conference on Disability History at the London Metropolitan Archives - Anne Borsay

English Heritage (EH) was formed from the Royal Commission on the Historical Monuments of England in 1984 to preserve and enhance the historic environment and to manage directly the sites taken into state care since the 1880s. There are parallel bodies in Wales (Cadw) and Scotland (Historic Scotland).

EH has started to develop an interest in under-represented groups, including disabled people. A consultation exercise was held in spring 2012 and at the end of the year a website called 'Disability in Time and Place' was launched.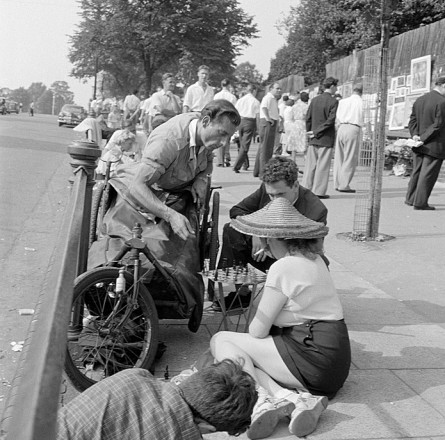 [Hampstead street scene 1957-62. Photographer: John Gay. A man in a three-wheeled invalid chair plays chess with the Hampstead open air art exhibition in the background. AA071810 – ©English Heritage]
The most recent initiative was a day conference on 'Disability History: Voices and Sources', organized with the London Metropolitan Archives (LMA) on 22 March 2013. The programme was divided into three panels: Voices, Sources, and Environment.
In the Voices panel, Navin Kikabhai explained the oral history of schools project being undertaken by the Alliance for Inclusive Education. Fifty testimonies, spanning the twentieth century, are being recorded with 10 trained disabled interviewers and interactive learning resources for schools are being prepared.
Phil Samphire of the Greater Manchester Coalition of Disabled People then spoke of an oral history project in his area, stressing the importance of bringing disability into mainstream history and recognizing disabled people as active agents. For disability history to have the political impact of disability arts, he argued, disabled people themselves had to be involved in researching their history.
Jan Walmsley, Visiting Professor at the Open University, delivered the third oral history paper on the forgotten voices of Prudhoe Hospital in Northumbria: a colony set up for 'mental defectives' in 1914. The project was carried out by Skills for People and everybody interviewed has a double-page spread in the project book, with extracts from their memories details of their life today.
The second panel on Documents also had three presentations: Ian Jones-Healey, archivist at the Langdon-Down Museum in Surrey on the role of the Langdon-Down family as medical superintendants of the Normansfield Hospital for learning disabled people; Sarah Chaney from University College, London on mental health case histories for Bethlem Hospital that were 'More than just statistics'; and Richard Wiltshire, Community Archivist at LMA, on the visual imagery of special schools.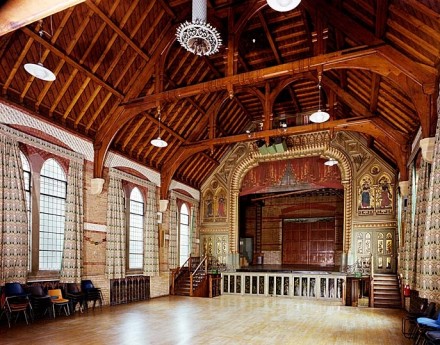 [Interior of the Entertainment Hall at Normansfield Hospital, Kingston Road, Richmond upon Thames. This private theatre for the children was added in 1877-9. Designed by Rowland Plumbe, and richly decorated in Aesthetic Movement style, it is a perfect miniature version of a London commercial theatre and is Listed at Grade II*. BB018877-©Crown copyright. EH]
Appropriately, the third, Environment panel began with an overview of the English Heritage disability website by its author, Simon Jarrett, who outlined how a thousand years were covered from medieval hospitals to the places that witnessed the birth of the disabled people's movement. Esther Fox followed with a paper on Accentuate: an arts organization, which seeks to challenge perceptions of disability through performances, residencies and workshops.
The panel concluded with Julie Anderson from Kent University talking about the use of stately homes in the south east as hospitals during the First World War. After charting how wounded soldiers were processed, she explored the contradictions of rehabilitation in idyllic rural settings that harboured isolation and a sense of being 'looked-at', despite attempts at integration with the local community.
This thought-provoking day raised important questions about the nature of disability history. First, what do we mean by 'disabled'? Physical, sensory and learning impairments, and mental illness were represented to varying degrees, but facial disfigurement in particular was neglected.
Second, as Irina Metzler pointed out in the concluding discussion, the focus was entirely on the modern period. Though oral history accounts for this bias, the spoken word is not the only way to access disabled people's voices. On the contrary, they can also be found by critically reading documentary sources and literary texts against the grain to tell stories of disability in earlier periods.
Finally, how do we bring together disabled people and non-disabled historians to move beyond a dual-track approach and produce histories of disability that are enriched by the expertise and experiences of both groups? There are no easy answers to this question.
Back