Blog
05 Oct 2015

Planning an Exhibition: A Guide for Historians - David Turner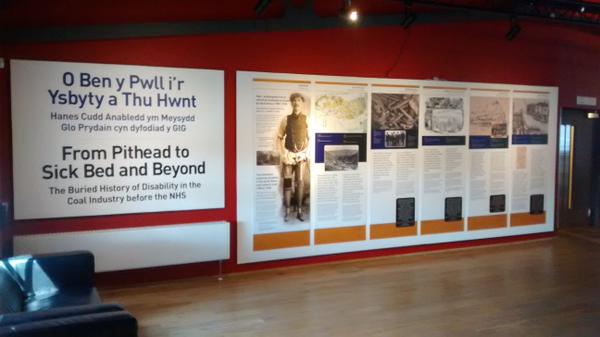 [The opening panels of the exhibition.]
As From Pithead to Sickbed ends its run at the National Waterfront Museum, it's time to reflect on our experiences in putting on an exhibition. Designing an exhibition was a new experience for most of us on the project and required thinking differently about the past and how it is presented. So what have we learned?
1. Get help from the professionals! We've been very lucky in the amount of help and interest we've received from curators at the National Waterfront Museum, particularly the Director, Steph Mastoris, and Exhibitions and Programmes Officer, Jacqui Roach. The exhibition was the product of three years of planning during which the academic team liaised with the Museum at every stage via regular meetings of our Public Engagement Panel. Knowing from the outset what the Museum expected in terms of the number and text length of panels, and keeping the curators abreast of the findings of our academic research, made for a productive dialogue about what to include in the exhibition and how it could be presented to the public. Being clear right from the start about what kind of information our panels should include and what artefacts might be available meant that we had realistic expectations about what we could display. The Museum has supported us in producing the panels, transporting artefacts and producing the touring version of the exhibition, which will travel to new venues in the coming years.
Effective partnerships are vital to achieving impact. The Museum has also been very helpful in calculating visitor numbers, assisting with evaluation by seeking feedback from visitors and measuring 'dwell time' on particular panels to see how visitors moved around the exhibition, and in producing educational resources which will allow our research to be used by schools to support various parts of the Key Stage 2 curriculum.
2. Keep things simple! The big challenge of communicating academic research in an exhibition is finding a means of conveying complex, sometimes contradictory, research findings in a simple format. Each of our 14 panels had to get its message across in just 150 words. Within that limit we had to explain how responses to disability in the coal industry changed over time and reflect the diversity of experiences of miners themselves – no easy task! Rather than taking a chronological approach, we decided present the exhibition in terms of a 'journey', taking visitors from the accidents that caused injury and impairment, through social, political and medical responses, to the longer term outcomes – including in some cases return to work. Our panel texts highlighted some important developments, such as the rise of workmen's compensation and the development of rehabilitation, but we supplemented this by including a timeline (including events outside the history of disability or coal) to help visitors to locate the exhibition temporally. The combination of text and image on each panel was important – while you can say little in 150 words, using some interesting images (or photographs of documents) helps to broaden out the topic and include things you might not be able to include in the text. This being an interdisciplinary project, we made sure that many panels included brief excerpts from literary texts, which also helped to reflect the diverse representations and experiences of disability.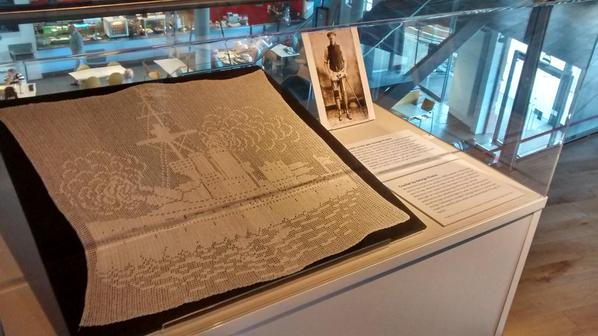 #
[George Preece's battleship crochet with a picture of George.]
3. Find some interesting objects! This may seem obvious, but finding the right artefacts can be a challenge, as we found out. Finding materials that were related directly to disability and mining and that were in a fit condition to be moved or displayed took a good deal of research by Mike and Dan, the project Research Fellows. The best artefact on disability and mining held by the Museum – a wooden leg provided for an amputee miner in the early twentieth century – could not be moved to our exhibition space. However, we were lucky enough to borrow a 'trambulance' from the Big Pit Museum, a calliper from Llandough Hospital and the manuscript of Bert Coombs's autobiography, These Poor Hands, from the Richard Burton Archives at Swansea University. The manuscript required some conservation work before it could be displayed, which thankfully our exhibition budget was able to fund. If you are planning an exhibition involving the display of books or documents it is important to discuss conservation issues with archivists and librarians first and make sure that these are covered in your budget. Because there weren't too many artefacts in the Museum's collection that we could display we made our own, commissioning a replica version of a Miners Friendly Society banner, which hung proudly over the staircase at the entrance to the exhibition. In choosing exhibits we wanted to get a balance between those items like the trambulance, which represented a functional response to mining accidents, with items which had a more individual quality. A crochet of a battleship made by miner George Preece, who took to needlecraft after losing his legs in an accident, was one of my favourite artefacts in the exhibition. Using it broadened the definition of 'disability things' to include not just the usual medical or assistive devices associated with disability, but also items made by disabled people with more personal value.
4. Make it accessible! We consulted local disability groups Swansea Access for Everyone and the Swansea Disability Forum for advice on making the exhibition accessible and relevant to all. We took advice on the font size for the texts of panels and made sure that we had Braille and large print versions of the text available for people with visual impairments. As the exhibition included a listening post (with excerpts from literary sources) and a 1940s film about a miners' rehabilitation centre, we ensured that transcripts and subtitles were available. In addition, we recorded a series of podcasts about the exhibition. The idea for these was partly inspired by Amanda Cachia's presentation, 'Disabling the Museum' at the Awkward Bastards symposium organised by Disability Arts Shropshire (DASH) in March 2015 . Amanda talked about 'creative access', a process where she had worked with disabled users to create audio guides to exhibitions, making objects accessible to others, but also adding their own interpretations, moving away from the authoritative voice of Museum interpretation. Although our podcasts weren't intended as formal audio descriptions (they don't discuss all the objects and panels in the exhibition), they do provide a means of capturing ways in which different people engage with objects in the exhibition and use the exhibition to reflect on their own experiences and on issues relevant today.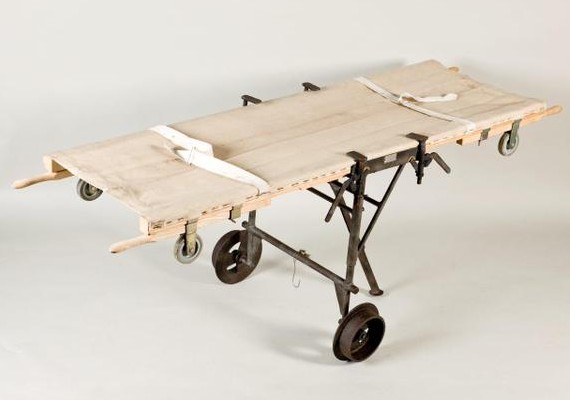 ]
[The trambulance.]
An exhibition on disability history necessarily needs to be as accessible as possible. But just as disability history isn't just of interest to disabled people, so exhibits on other topics should be made accessible to all. Public engagement is about making work physically accessible as well as making it understandable and relevant to a wider audience. True engagement – a mutually beneficial dialogue between academics and the public – cannot take place if some people are excluded from the conversation. Disability historians can take the lead in promoting accessibility of research across the whole of the historical profession, not just in our own field.
Seeing the exhibition 'in the flesh' has been one of my proudest moments as project director. It is a testament to the hard work of our colleagues at the Waterfront Museum, and to that of our fantastic project research team, especially Mike, Dan and Alex who chose the artefacts, literary texts and wrote the panels. And none of it would have been possible without the generous support of the Wellcome Trust. Sad as it is to see the exhibition come to an end in Swansea, I'm looking forward to seeing it again at National Library of Wales when it opens there on 19th December.
Find out more about From Pithead to Sick Bed and Beyond:
Listen to our exhibition podcasts with Kat Watkins, George Brinley Evans and Mark Stone (links include transcripts)
Read our blogposts about the museum's artefacts: the trambulance, George Preece, the friendly society banner and the listening post.
Back