Blog
13 May 2013

"Cap in Hand?" Report Issued - Georgia Burdett

On the 29th of April, Disability Wales launched a report produced by the Bevan Foundation detailing the impact of Welfare Reform on disabled people across Wales. The event was sponsored by Leanne Wood AM at the Pierhead in Cardiff Bay. Speakers at the event included Owen Smith MP, Shadow Secretary of State for Wales and Amelia John, Head of Fairer Futures in the Welsh Government, who each gave a response to the report.The report entitled "Cap in Hand?" made a series of recommendations aimed at UK and Welsh Governments and other public sector bodies, to prevent disabled people from being pushed further into poverty, isolation and dependence. The changes to social security benefits that are taking place exacerbate a social and economic climate that is already challenging for disabled people. The report by the Bevan Foundation found that:
- Wales has a higher proportion of disabled people than other nations and regions of the UK.
- Disabled people in Wales are less likely to work than disabled people in other UK nations and regions (other than North East and Northern Ireland).
- Disabled people are less likely to be in employment than non-disabled people.
- Disabled people in Wales earn less, on average, per hour than non-disabled people, with those who are working full-time earning 7 percent less than non-disabled people.
- Disabled people in Wales are twice as likely as non-disabled people to live in a low-income household.
- Disabled people face a higher cost of living than non-disabled people, a cost which is rising year on year.
- Cuts to Local authorities' spending and budgets will place considerable pressure on the level of resources they can dedicate to social care provisions for disabled people.
- There is an increase in the levels of disability-related harassment.
Leanne Wood, AM, said: "No party went into the last elections saying that they would claw back money from the disabled."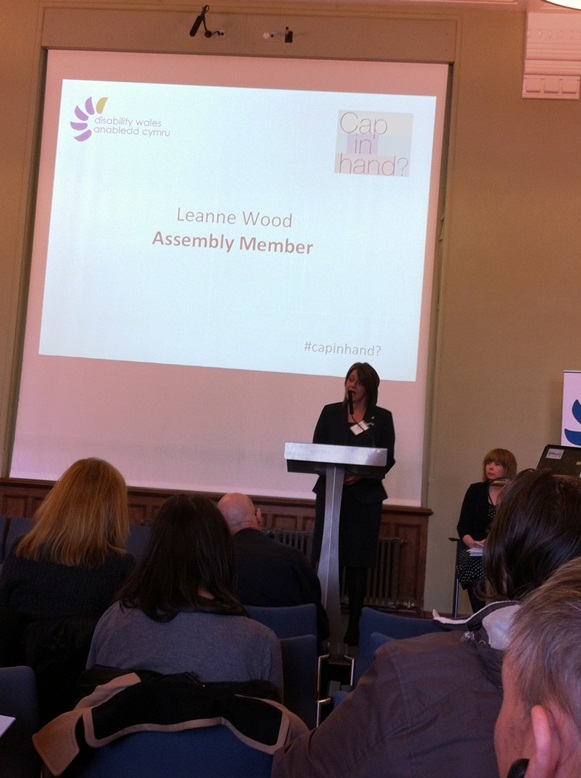 [Leanne Wood, AM, speaking at the launch of the report]
Amelia John, Fairer Futures, said: "By May 2018 over 25,000 people in Wales may lose their entitlement to DLA."
Rhian Davies, Chief Executive of Disability Wales said:
"The welfare reforms that the UK Government are currently implementing will have a huge impact on disabled people in Wales. Disabled people across the UK will bear the brunt of cuts to the welfare budget, with disabled people in Wales being particularly hard hit."
"Our concern is that the cumulative impact of all the changes including to housing benefit, disability living allowance and the independent living fund will leave many disabled people worse off financially and reduce independence. As well as increasing disabled people's poverty and exclusion, the changes will also affect their families and wider communities. We fear that it will turn back the clock to a time with disabled people and their families had to go 'cap-in-hand' to the authorities to receive any support or assistance."
The report acknowledges that in times of cutbacks there is the need to make tough spending decisions, but emphasizes the importance that public bodies fully assess the impact of their decisions, and that they do this primarily through a program of engagement with disabled people. Jaki Southgate, 'Older Voices' project manager at Mencap Cymru asserted: 'The Government must fight for the values that are important to people in Wales- a welfare safety net is one of those values.' Disability Wales and its supporters will continue to lobby the Government to reconsider the effects of Welfare Reform on disabled people in Wales.
Back