Event Archive
Roadshow: Mining for Memories
Sat 14th June 2014
National Mining Museum Scotland, Newtongrange, Midlothian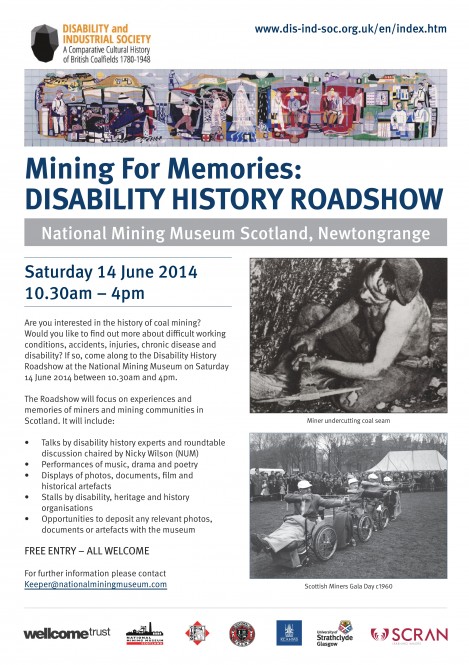 Download the flyer and programme (PDF)
Are you interested in the history of coal mining? Would you like to find out more about difficult working conditions, accidents, injuries, chronic disease and disability? If so, come along to the Disability History Roadshow at the
National Mining Museum on Saturday 14 June 2014
between 10.30am and 4pm. The Roadshow will focus on experiences and memories of miners and mining communities in Scotland. It will include:
Talks by disability history experts and roundtable discussion chaired by Nicky Wilson (National Union of Mineworkers)
Performances of music, drama and poetry
Displays of photos, documents, film and historical artefacts
Stalls by disability, heritage and history organisations
Opportunities to deposit any relevant photos, documents or artefacts with the museum
Free entry, all welcome.
Timetable
10.00 - 10.30 Museum opens, stalls and exhibition open.
10.30 – 11.00 Music from Travelling Folk
11.00 – 11.15 Welcome and introduction to the coalfield disability history project (Prof Arthur McIvor)
11.15- 11.30 Why do we do disability history? (Dr Iain Hutchison)
11.30 – 12.00 Alex Rees 'The Darkness' by Joe Corrie
12.00 – 12.15 Music from Travelling Folk
12.15 – 1.15 LUNCH
1.15 – 1.45 Local Schools Project (Ewan McVicar)
1.45 – 2.15 Poetry reading from Rab Wilson
2.15 – 3.15 Discussion Panel on disability in the coalfield (chaired by Nicky Wilson, NUM)
3.15 – 4.00 Stalls and exhibition remain open (event ends 4pm)
People are welcome to drop in at any time during the day (note: this timetable is subject to change)