Blog
22 Aug 2014

Sport and Special Education in the 19th and early 20th Centuries - Mike Mantin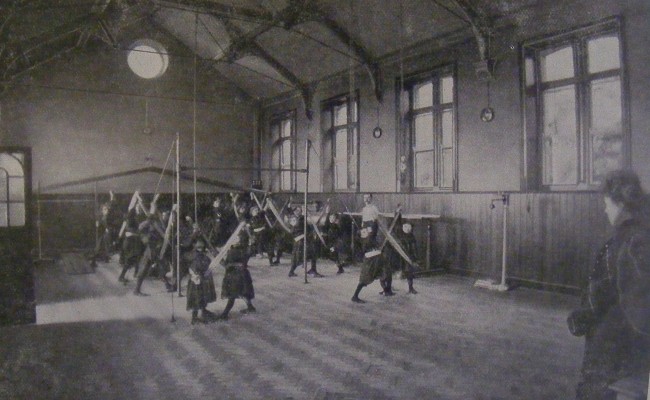 [Girls' gymnastics class at the Cambrian Institution for the Deaf and Dumb. Source: Annual Reports, Swansea Central Library]
The history of Victorian and Edwardian special education institutions has mostly focused on drab institutional lives, monotonous regimes and contests over teaching. Little room was made in many schools for sport, leisure and play; even less has been made in the historiography. Yet sport and exercise were an important part of disabled and Deaf children's educational regimes, and often essential to their educational ideology.
An example of the latter was the early days of the Chailey Heritage Craft Schools, the first dedicated school for physically disabled children in the UK. The school was founded by Grace Kimmins , a prolific London philanthropist who had previously set up both the Guild of Play – which advocated for outdoor exercise for working-class children – and the Guild of the Brave Poor Things – a social group and charity for disabled people. Both groups advocated play and outdoor environments as essential for children's upbringing, often comparing these ideals to the urban dinginess of the children's homes.
It was this ethos that informed the Chailey Heritage Craft Schools when they opened in 1903, alongside a number of other open-air schools. Writing in a school retrospective in 1948, she remembered the foundational principles of Chailey: 'two or three years in pure air… living under healthy conditions' was 'the only satisfactory solution' to help the children.
Sport emerged as a perfect vehicle to convince the public of the importance of their ethos. A programme for a 'School Speech Day and Sports' on the 25 July 1905 demonstrates Kimmins was clearly serious about this. Opening at 3.45 with a guard of honour to welcome their guest Princess Louise, the day featured rousing speeches such as 'The Definition of a Gentleman' by Cardinal Newman and demonstrations of sports including athletics, gymnastics and more light-hearted additions such as wheelbarrow and sack races. At the bottom of the programme was a quotation which hinted that this emphasis on sports and exercise - whilst not dissimilar from physical education developments in mainstream education for non-disabled children – was aimed at improving the children's lives. It read:
"To make some nook of God's creation a little fruitfuller, better, more worthy of God; to make some human hearts a little wiser, manfuller, happier – more blessed, less accursed! It is work for a God." – Carylyle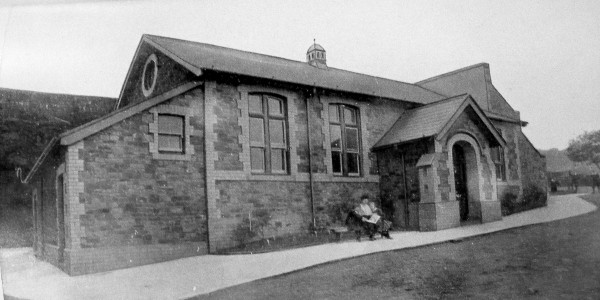 [The gymnasium of the Cambrian Institution for the Deaf and Dumb. Source: Annual Reports, Swansea Central Library]
Sports were not limited to such spectacle, they were an important part of school and indeed community life. The records of Wales' first Deaf school, the Cambrian Institution for the Deaf and Dumb (est. 1847), show a similar intention to integrate sport and exercise into the curriculum. A dedicated gymnasium was built in 1905 with gymnastics lessons split by gender. However, sport and exercise was more than a lesson or a necessity, and appears to have brought respite from school life. Children spent their leisure times playing football games on the field and used the donated free newspapers to check the football scores. Male pupils' writing work mentioned the boys having a kickabout.
This is further testament to the importance of football within the Deaf community. As Atherton, Russell and Turner argue in their 1999 article on Deaf football, 'Not only has [football] been a popular sporting pastime, but it has also played a major part in maintaining and strengthening the social and cultural ties which bind members of the Deaf community together.' Teams such as the Glasgow Deaf and Dumb Football Club – formed in 1871 and pre-dating both Rangers and Celtic – had their roots in the local Deaf institutions.
Scores from school matches were also reported regularly in Deaf newspapers. One fascinating piece in the British Deaf Mute of 1895 showed how the matches could become politicised according to the contemporary debate between sign language and oralism, or articulation. The newspaper reprinted a report from Galladuet College in the USA – the first university specifically for Deaf people, whose education used 'manual' sign language - against Mt Airy Football Team whose deaf players were taught using oral methods. The oral team were reported to have lost by some margin:
'The ignorance of the rules of the game shown by [the oral team] we can attribute to nothing but the difficulty of explaining them orally to the players. Their poor team-work was due to their absurd signalling which sometimes took so long that the umpire ordered them to "play ball."
The British Deaf Mute's editor reprinted the piece to support the continuation of sign language in Britain, which was under threat from those who thought oralism would integrate Deaf children better into hearing society. Their intention was 'to amuse our manualist friends and give our pure oralist readers food for thought'.
More commonly, sports were subject to a level of intense moral scrutiny. The Principal of the Cambrian Institution for the Deaf and Dumb in June 1892 angrily refused a request for the older pupils and adult Deaf of Swansea to attend an Athletics Meeting in Bolton, objecting in particular to 'the special invitation to each gentleman visitor to Bolton to bring at least one female with him.' The adults' attendance would set a bad example of morals to the girls in the Institution: 'They require to be told and I only regret that some missionaries tell them the contrary'. The ban is a reminder of the limits of sport in special schools: they held a huge importance for disabled and Deaf children nationwide, but when immorality, independence or perhaps even flirtation got in the way, lines could be drawn.
Based on a public talk for 'Disability History Festival: Work, Sport and Play' at Swansea University, 19-21 August 2014. Find podcasts and videos of all the talks here.
Back