Blog
24 Nov 2014

UK Disability History Month Blogs 2014: Introduction - Mike Mantin

22 November – 22 December is UK Disability History Month. To celebrate, we are running a series of guest posts on our blog. Like our first series in 2013, the posts will showcase the work of academics and activists exploring new directions in disability history.

Some of this year's contributions will address this year's UK Disability History Month theme of disability and war. Amid the World War I centenary commemorations this year, historians have been considering the war's impact on disabled people. This is not an easy history to confront. An estimated two million soldiers were permanently disabled by the war, creating an unprecedented demand for medical provision, rehabilitation and employment. The lives of disabled people in the wake of the war is still being uncovered, and some of our blogposts this year highlight major new sources and approaches to help do this.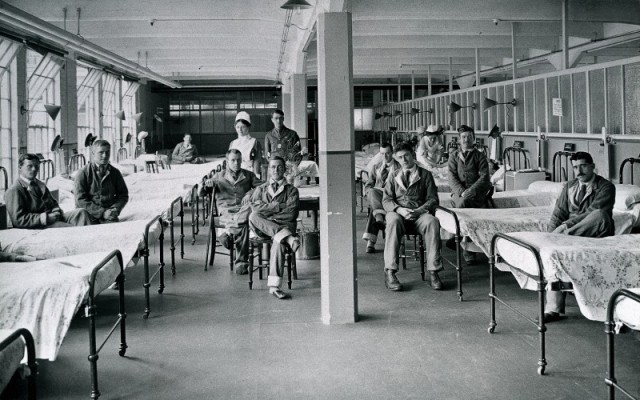 [Patients at the King George Hospital for Wounded Soldiers in World War I. Photo: Wellcome Images]
Many of these posts explore themes present in the work of Professor Anne Borsay, the leader of this project and a pioneer in the field of disability history. Anne's work looked at the impact of war, as well as many other issues in the field of disability and social policy. Anne passed away in August 2014, and this year's Disability History Month blogposts form part of our project's ongoing tribute to her.
Read the 2014 Blogposts:
Back